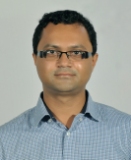 Dr. Keyur Raval

Assistant Professor, Department of Chemical Engineering,

National Institute of Technology Karnataka,

Ph. D. in Biochemical Engineering and Biotechnology

B.E. in Chemical Engineering 

 
Education
2002-2007    Ph. D. at Institute of Biochemical engineering, RWTH Aachen Technical University, Germany.
2000-2002      M. S.in Biochemical Engineering & Biotechnology with Cumulative Grade point Average of 8.96 (out of 10.00) at Indian Institute of Technology Delhi, New Delhi, India.
1995-1999      B. E. inChemical Engineering with 72.6% at L.D. College of Engineering, Ahmedabad, Gujarat, India.
1995            H.S.C. (Science) with 79.0 % from Gujarat Education Board
1993            S.S.C. with 80% from Gujarat Education Board
Professional Experience
Ø   January 2013 to date:Assistant Professor at National Institute of Technology Karnataka.
Ø   January 2010 to December 2012:Associate Professor, Department of Chemical Engineering, Manipal Institute of Technology (M.I.T.), Manipal University, Manipal.
Ø   Dec 2008 to Dec 2009:Senior executive at Alembic Ltd., Baroda
·      Member of a core group headed by GM-technical services for upstream and downstream processes for Lovastatin, Erythromycin and Penicillin production.
Ø   Achievements of our team:
·      Reduced contamination levels from 85% to 5% in span of four months.
·      Stabilized erythromycin production process, increased production by 30% and improved down stream efficiency by 5%.
·      Identified and removed bottlenecks in Lovastatin production process and enhanced productivity by 80%.
·      Achieved a total of ca. Rs. 80 Lacs of cost savings per month on raw materials due to process improvements, stabilization and media optimization.
·      Mobilizeddead inventory in production process and achieved cost savings of ca. Rs. 12 Lacs.
Ø   Aug '99 to April 2000: Trainee Chemical Engineer at Tata Chemicals Ltd, Mithapur.
·      The Marine Chemicals unit had technical staff of ca. 20 people. As an engineer in charge of a unit, my duties comprised of maintaining seamless process conditions and achieving maximum possible production using manpower management and technical skills.
Awards and Achievements
·      Awarded Dale Carnegie Certificate for high impact teaching skills.
·      Awarded Mission10X learning approach practitioners certificate for innovative teaching methods.
·      Distinguished Visiting Fellowship at University of Nottingham to research on sustainable energy using appropriate technologies in 2011.
·      DAAD (Deutsche Akademische Austausch Dienst) international scholarship (May 2001-February 2002) award for pursuing research in one of the top six technical universities of Germany.
·      Successfully completed a 3 months faculty development certificate course in Nano-science and Technology
·      All India rank 134th in Graduate Aptitude Test in Engineering (GATE) conducted in year 2000 for higher studies in one of the seven Indian Institutes of Technology of India.
Academic and administrative experience
·       Developed two Post Graduate research laboratories.
·      Incorporated AutoCAD for Chemical engineering drawing & design and developed laboratory course in AutoCAD at Department of Chemical Engineering, M.I.T, Manipal University Involved in various outreach activities such as delivering expert lectures, member of doctoral scrutiny committees in other institutions etc.
·      Invited reviewer for four international journal publications.
Technical skills
Ø   Process development and scale-up of
·      microbial fermentation, plant cell culture, insect cell and mammalian cell culture, therapeutic protein production, secondary metabolites production
Ø   Bioreactor design and characterization
·      Disposable bioreactor systems, stirred tank bioreactors design based on oxygen transfer, hydro-mechanical stress, mixing time or power consumption
Ø   Separation and analytical methods
·      for proteins: ELISA, SDS-PAGE, LC-MS
·      for secondary metabolites: HPLC, TLC, Spectrophotometry
·      ultra filtration, centrifugation
Ø   Computer proficiency
·      Modeling and optimization software: ModelMaker, gPROMS
·      MSOffice, CorelDraw. Operating system: Windows
·      Bioinformatics tools: DNASTAR, BLAST, NCBI, JGI, SEQUEST, GPF, Expasy
Personal skills
·      A well focused, innovative and strategic attitude towards project execution
·      Effective communication skills, flexible, results driven and self motivated
·      Capable to execute projects in team or independently
·      Languages known
Fluent: English, German, Hindi, Native: Gujarati
Selected publications and conference presentations
International Journals
1.      Raval K.N., Hellwig S., Prakash G., Ramos-Plasencia A., Srivastava A., Büchs J. Necessity of a two-stage process for the production of Azadirachtin-related limonoids in suspension cultures of Azadirachta indica. J. Biosci. Bioeng., 96(1), 16-22, 2003.
2.      Keyur Raval, Chao-Min Liu, Jochen Büchs. Large scale disposable shaking bioreactors: A promising choice. Biopro. Inter. 4(1), 46-49, 2006.
3.      Keyur Raval, Yoshihito Kato, Jochen Büchs. Comparison of torque method and temperature method for determination of power consumption in disposable shaken bioreactors. Biochem. Eng. J. 34(3), 224-227, 2007.
4.      Keyur Raval, Jochen Buechs. Extended method to evaluate power consumption in large disposable shaking bioreactors. J Chem Eng Japan, 41 (11), 2008.
5.      Ritu Raval, Keyur Raval, Bruno Moerschbacher. Enzymatic Modification of Chitosan Using Chitin Deacetylase Isolated from Bacillus cereus. OMICS online, Open Access Scientific Reports, 2(1), 1-4, 2013.
6.      Keyur Raval, Dhanya Sunil, Sakshi Singhania, Praful Deshapande. Enhanced Bioavailability of 6-[3-(4-chlorophenyl)-1H-pyrazol-4-yl]-3-[(2-naphthyloxy) methyl][1,2,4] triazolo[3,4-b][1,3,4] thiadiazoleon C6 Cell Lines using Chitosan Encapsulation at Nano Scale. Int J Innovative Research Scie Engg Technol, 2 (11), 6532-6538, 2013.
7.      Keyur Raval, Yoshihito Kato, Jochen Buechs. Characterization of heat transfer of large orbitally shaken cylindrical bioreactors. Biochemical Engg J, 86, 1-7, 2014.
National Journals
1.      Gunjan Prakash, Keyur Raval, Ashok Srivastava. Production of biopesticide Azadirachtin from plant cell culture of A. indica. CSIR J., 11(1), 81-85, 2003. (Published in Hindi)
Book Chapter
1.         Ritu Raval, Keyur Raval, Satinder Kaur Brar, Mausam Verma. Proteases: Enzme aided value addition in food processing industries. Enzymes in Value addition of waste, Nova Publishers, New York.
International Conference Presentations
1.      Characterization and application of disposable large shaking bioreactors. Presentation given at "GVC/DECHEMA –Fachausschusstagung", Germany, August, 2004.
2.      Keyur Raval, Wolf Kloeckner, Jochen Buechs. Characterization and Application of Novel Disposable Shaking Bioreactors. Asian Congress of Biotechnology organized by IIT Delhi, December 2013.
3.      Keyur Raval, Ritu Raval. Chitosan synthesis through Enzymatic route.  International conference on frontiers in energy, environment, health and materials research organized by CSIR Lab, Bhuvaneshwar, August 2013.
National Conference presentations
1.      Shashank Dwivedi, Keyur Raval and Ganesha A. Environmental pollution control from waste generated from small scale industries using appropriate technologies and potential for biorefinery development. National Conference on Energy and Environmental Issues related to Chemical Industries, Proceedings Page 30, 2012. 
2.      Amit, Keyur Raval, D V R Murthy, Effects of liquid swirling on gas to liquid mass transfer in two phase swirled bed reactor. New Approach in Chemical Sciences & advancement in Renewable energy, Delhi, March 2014.
3.      Ved Tripathi, Keyur  Raval, Gopal Mugeraya. Production of fuel by pyrolysis of waste plastic. New Approach in Chemical Sciences & advancement in Renewable energy, Delhi, March 2014.
4.      Keyur Raval*, Shashwat Shekhar, Chirasmita Amin, S Harish Kumar. Development and Characterization of a Novel Bioreactor system for algae production for biofuels. CHEMCON-2012.
5.      Keyur Raval*, Padmini. T, Ritu Raval, Ganesh A. Treatment of Rice Mill Waste Water by Hydrogen peroxide and subsequent Bio gas generation. CHEMCON-2012.
6.      Keyur Raval, Ganesha A. Reduction of BOD and COD of fish industries waste water by physical and chemical methods. CHEMCON- 2011.